WORDS BY MARTIN GLYNN 
In light of the heinous event of Monday night in my hometown of Manchester we thought long & hard about whether to run this post. But we must not let a small number of sick individuals who say they represent a peace loving religion speak for them. We are far more stronger than that. So please let this post by a wonderful fellow Mancunian be a mark of respect to the Families and Friends of all those wonderful people lost their lives or are injured. 
Enjoy #westandtogether #prayformanchester 
#onelove 
So, Festival season is nearly upon us and for parents of a certain vintage it evokes memories of misspent youth, lost weekends and a time of life where seeing your mates, watching a load of bands and having a few beers didn?t involve military levels of logistics and cashing in more childcare favours than you actually have.
But hold on folks, all is not lost. There are ways in which you can return to those lazy, hazy days of summer without simply abandoning your children or putting your TV in the back garden and watching the Glastonbury coverage on the red button loop.
Thankfully these days there are plenty of options where you can still get out of the house and enjoy some of the action, with an increasing number of festivals catering for the joys and challenges of those with families! With a number of festivals having designated camping areas for families and programming designed to appeal to all ages many even offer places free or heavily discounted for kids, here?s a small selection of what you could get up to this year.
DEER SHED
If you?ve ever wondered what attending a festival with your offspring would be like, this is probably the perfect place to start. Now in its eight year, Deer Shed was set up and is curated with families in mind, in fact having kids with you at this event is very much the norm. Taking its musical lead from the playlists of BBC 6 Music the programme extends to comedy, literature, arts and science and all in the setting of some beautiful North Yorkshire Parkland.
There is loads to do, all within a very manageable site, with good sightlines if your brood want to go off for a little wander, the camping is well organised, facilities plentiful and nothing goes on too late so there is actually the chance to get some sleep ? which for some at a festival might be a novel change. Activities on the Sunday finish late afternoon too, all very civilised particularly if you?ve got to be back in work on the Monday!
With a capacity of only 6000 the economics don?t stack up for the promoters to put on huge numbers of big name acts but that just adds to the genuinely lovely boutique feel Deer Shed has to it. That said, this year?s line-up does include Teenage Fanclub, Kate Nash and The Divine Comedy, Comedy from John Shuttleworth, Hal Cruttenden and Justin Moorhouse, Spoken Word sessions with Owen Jones, Tim Dowling and Stuart Heritage and DJ Sets from Andy Kershaw, Marc Riley and Deer Shed favourites Across the Tracks.
Baldersby Park, Topcliffe, North Yorkshire, 21-23 July 2017

CAMP BESTIVAL
At the other end of the scale is the multi award winning Camp Bestival, the ?little sister? of Bestival, both organised by Rob and Josie Da Bank. Held annually, in July, at Lulworth Castle in Dorset it?s the biggest family-friendly festival the UK has to offer. A family-friendly ethos and focus delivers a multi-genre line up catering to all the different feel good vibes; with live acts as diverse as Mark Ronson, Leftfield and Right Said Fred and a DJ line up including Skream, Norman Jay MBE and Clint Boon it really is a truly joyous musical affair.
With an array of workshops, comedy tents, crafts and talks the festival tries to provide an immersive and interactive family experience. This year?s fancy dress theme is popstars and rockstars, with festival-goers encouraged to dress up as their favourite artist from the world of music. If you want big names, big tunes and big fun then Camp Bestival could be the one for you.
Lulworth Castle, Dorset, 27-30 July 2017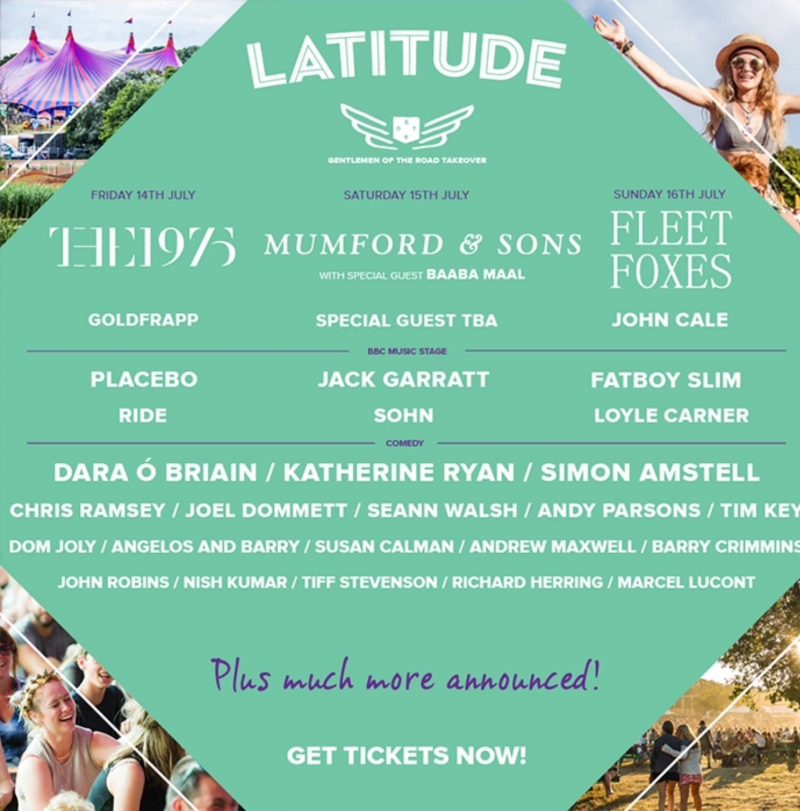 LATITUDE
Compared to many festivals, Latitude is a very laid back affair delivering an eclectic and thoroughly enjoyable mixture of Music, Art, Theatre, Cabaret, Poetry, Dance, and even Politics, Described as ?sumptuous, other worldly and home to probably the only multi-coloured sheep you?ll see this year?, Latitude brings intrigue, creativity, and excitement to the Suffolk Countryside, in the beautiful setting of Henham Park.
Run by Festival Republic, the people behind Reading/Leeds, Download, Wireless and the brilliant Electric Picnic in Co. Laois, Ireland, Latitude brings in top tier acts with headliners on the mainstage in 2017 including The 1975, Mumford and Sons and Fleet Foxes, whilst Placebo, Jack Garrett and Fatboy Slim all appear over on the BBC Music Stage.
If you?re in search of a bit of culture then Sadler?s Wells present a number of performances on the beautiful Waterfront Stage or if comedy is more your thing the Comedy Stage boasts, the largest comedy line up in the UK, featuring the biggest names in the industry.
Family activities are spread across three specific areas, the Kids Zone, The Enchanted Garden and the Inbetweener area, a space for 12+ where the kids are invited deep into the woods to enter another world of music, media, technology, fashion, wildlife survival skills and assault courses suspended in the trees!
Henham Park, Southwold, Suffolk, 13-16 July 2017

THE BIG FEASTIVAL
If your life is a constant battle between yourself, your other half and your children as to what you?re going to watch on TV or listen to on the radio then The Big Feastival might just be right for you. Set up by Jamie Oliver and Blur?s Alex James the event is a family friendly event combining food from some of the country?s top chefs with a wide selection of big name live music acts.
Unashamedly aiming for wide appeal the music line up is beyond eclectic, with confirmed acts including headliners Hacienda Classical, Olly Murs, & Madness, plus Ella Eyre, Faithless (DJ set), Embrace, The Cribs, Dodgy, De La Soul, and more
Chefs appearing at the event include Rick & Jack Stein, Antonio Carluccio, Nathan Outlaw, Mark Hix, Cyrus Todiwala, Jose Pizarro, Olia Hercules, Robin Gill, Laura Jackson, Neil Rankin, Tom Hunt, Candice Brown, Romy Gill and Tom & Henry Herbert and there?s also a big range of street food.
The event is very family-friendly, with kids entertainment from king of CBeebies Justin Fletcher, and the magnificent Dick & Dom, together with cooking workshops for adults and kids, arts and craft sessions and a funfair.
Alex James? Farm, The Cotswolds 25-27 August
FESTIVAL NO 6
The organisers of Festival N°6 describe it as a festival like no other, in the most stunning festival setting in the world, and it?s hard to disagree with them. The annual art and music festival, held in the magnificent Portmeirion in North Wales (also known as the location of the cult TV series, ?The Prisoner?) presents a wide range of music genres, including rock and roll, folk, house, techno and dance.
Running over three days at the start of September, Festival No.6 provides a 24-hour soundtrack worthy of a weekend without musical boundaries, selected by a team of some of the UK?s most respected independent promoters and party planners.
Main Stage acts in 2017 include The Flaming Lips, Bloc Party and Mogwai, as well as a special performance by The Royal Liverpool Philharmonic Orchestra together with the Bootleg Beatles celebrating 50 years of Sgt Pepper. DJ?s include Goldie, Hercules & Love Affair and Mr Scruff but on most people?s ?don?t miss? list will be the fabulous Brythoniaid Welsh Male Voice Choir appearing in the Central Piazza singing a mix of the traditional standards and contemporary reworkings, a glorious sound indeed. The festival really embraces its surroundings and heritage with all manner of processions, performances and curiosities popping up throughout the festival site.
For families, specific places are organised to ensure all ages feel welcome, including FN6?s Mischief Meadow for children and a designated, quieter family camping area. For the more adventurous it?s even possible to take part in Paddle Boarding on the Estuary with regular sessions running on the River Dwyryd Estuary throughout the weekend. Working with ?Attitude is Everything?, the festival also adapted to disabled people.
Portmeirion, Wales 7-10 September 2017