WORDS BY CHARLIE BRITTON
The fashion industry has seen quite the rise in sportswear inspired garments in recent years with mega-trends such as ?sports luxe? and ?Ath-leisure? saturating the market. This sartorial mash-up of class and comfort expels the ?fashion rule book? as there simply are no boundaries. This summer really is no exception as brands release sportswear inspired collections, fit for occasion on and off the pitch and what a better time then just-in-time for good old Wimbledon.
Kent and Curwen
Creative director Daniel Kearns has clearly been quite busy in recent months. Working closely along side business partner and brand ambassador and the man himself, David Beckham, Kent and Curwen has produced a well liked and received SS18 collection, increased their brand awareness across the menswear fashion and retail scene and grown the brand?s strength from ageing and uncreative to well designed, expertly crafted and sought after.
As seen from the interesting presentation that received a well deserved mention in our top LFWM collections which you can see here, Kent and Curwen has focused on a ?teams? inspired collection. Bringing in design and detail from different sporting events such as tennis and cricket, the collection has created a nostalgic and very British aura, something rather refreshing and good to see on the menswear scene.
Although this is next Spring/Summers collection, Kent and Curwen?s current SS17 collection is still the perfect choice for today?s modern sportsman. From knitted striped tees to cotton cricket jumpers, the collection is bursting with British heritage and sportsmanship. What?s more, the collection is currently on sale, so make sure you check it out before its gone!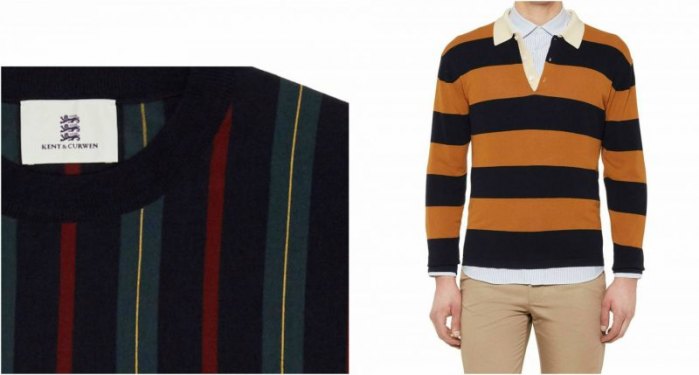 Australian L?Alpina
A name often associated with sports, Australian L?Alpina was founded in 1946 and quickly became a recognisable player on the tennis scene.  The unique kangaroo motif may well be one of the more recognisable of heritage brand logos too and has continued to grow in popularity, both on and off the court.
This year, L?Alpina has teamed up with former British David Cup winner, James Ward, as the brand ambassador for this spring summer season. As James Ward steps back into the tennis scene, he has lead the latest collection of contemporary and timeless tennis garments perfect for a game on the grass or a drink at the pub.
Logo embroidered polo shirts with contrasting sleeves and heritage inspired track tops make up most of the collection, with L?Alpina sticking to their traditional style of design as they always have done best. Wearable for sporting occasions and causal occasions alike, this Summer17 collection defines Italian sportswear without the ridiculous price tag. The full Italian contemporary collection is available now on Australian L?Alpina.
Ellesse
Now a household name for the younger and older generation, Ellesse was started in 1959 and took pride in it?s Italian sportswear roots as it still very much does to this day. Initially starting with ski-wear, Ellesse quickly became an important name in the sporting world as it went on to sponsor the likes of Ferrari F1 and the New York marathon in the 1980?s.
Taking inspiration from Wimbledon itself, Ellesse has launched a tennis collection for men, with each garment appropriately named after a famous tennis sporting figure. The colourways of navy, blue and white keep the collection contemporary and up to date, whilst the Ellesse red and yellow logo stands out to create a nice finishing detail. At an extremely affordable price too, this is the perfect range to keep you on top of your game this summer, available now on Ellesse.