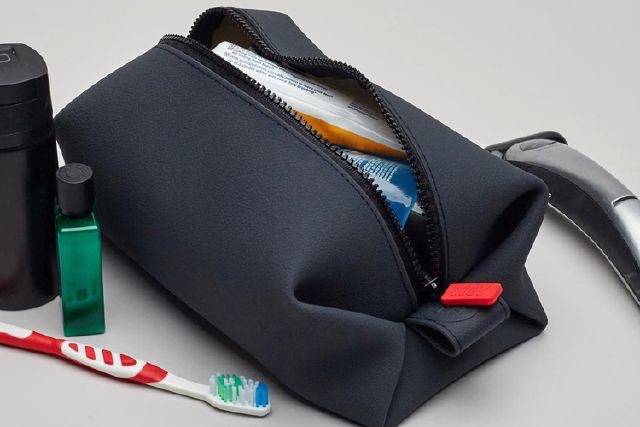 We live in an age of travel being part of our everyday life?s, not only are we talking about our daily comute but as part of our career and social down time, we travel so much more. Whether that be a quick jaunt for a business meeting or a city break or an extended stay for a vacation. Travel and all that comes with it, both good and bad, is so much a part of our modern existence.
We pride ourselves at Clothes-Make-the-Man that we take on the stress and strain so you don?t have to. As part of this and a negative aspect of travelling generally, who wants to carry around full sized versions of their washbag essentials with them every time they need to jump on a plane?
There are numerous reasons for this, when you are off on a short capper, whether for work or pleasure, we want speed to be on our side to maximise on time and minimise time spent at a luggage carousel in some non-descript airport. Plus, increasingly, airlines are becoming tighter and tighter on their baggage allowance so ever precious ounce counts when it come to packing and there is no place for bulky grooming packaging. But, primarily, flight restrictions mean that each liquid you carry within your washbag on planes must be in its own container and no more than 100ml(3.4 ounces). Many holidaymakers will be familiar with the limitations and hassles of organising toiletries that are travel friendly and standing at security check and having to make that heart wrenching decision of which one to dump. Is it a barely opened bottle of fragrance or a jumbo sized tube of toothpaste that was going to do you for the entire duration of your holiday, remember it?s two weeks not two months.
men-ü offer ultra-concentrate products for skin, body, hair and styling. The products are conveniently packaged for the modern man with handy and all important 100ml pucks, tubes and bottles with locking pumps to provide accurate dosage and less leakage.
For the ultimate in compact men-ü offers travel friendly 15ml ?buddy? tubes (up to 30 applications) available for all the men-ü shave and facial products as well as its latest hair styling product LIQUIFFLEX.
The products fit neatly in the hand and into a man?s travel bag. These buddy tube sets will travel through customs with ease and cover all your skincare needs.
Also, the iconic Fish Salon in Soho have transformed three of their best selling styling products into handy mini sized versions, perfect for travel. The Fishfingers Shape Defining Wax, Fishshape Texturising Cream and Stonefish Matt Texturising Clay are now all available in flight friendly 25ml sizes. So whatever you?re up to this Summer; flying around the world on business trips, a weekend away with someone special or jetting off to Ibiza with friends, you can now take your favourite Fish styling product with you, without weighing down your suitcase.
OK so that?s your hair, skin and body sorted, but what about smelling sweet, a great number of grooming brands now offer their scents in handy miniature sized versions, specifically for travelling and any globetrotting gent knows that maintaining impeccable style whilst travelling is of the utmost importance. Ted Baker have created to compliment the essence of a man?s jet-set aesthetic, three distinguished Travel Tonics that are inspired by three treasured metals. Fusing style with substance, each sophisticated fragrance ensures he always sparks a reaction, wherever in the world he may be. Available in gold, silver or copper each Travel Tonic is slim line and portable, making for a rare and refined addition to any fragrance collection.